Moderators: KG Steve, Chantal, Tigger, peter, Chief Spud
KG Regular
Posts: 7216
Joined: Sun Nov 27, 2005 7:00 am
Location: Chwilog Gogledd Orllewin Cymru Northwest Wales
x 610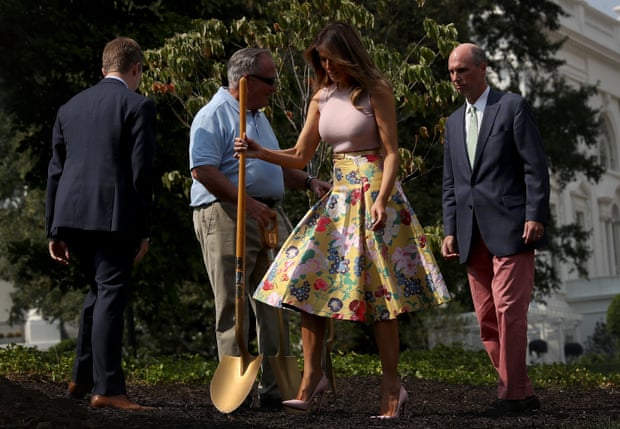 https://www.theguardian.com/us-news/shortcuts/2018/aug/28/stilettos-and-a-4000-skirt-melania-trumps-tree-planting-outfit
Cred air o bob deg a glywi, a thi a gei rywfaint bach o wir (hen ddihareb Gymraeg)
Believe one tenth of what you hear, and you will get some little truth (old Welsh proverb)
Well, those heels will have to go for a start !
KG Regular
Posts: 12349
Joined: Tue Jan 24, 2006 1:52 pm
Location: Beautiful Bedfordshire
x 901
A quick glance and I thought Cook had abandoned her place in the kitchen...
Kind Regards, Old Herbaceous.

There's no fool like an old fool.
I don't think most of us on here probably have a suitable wardrobe for this kind of gardening. No good sending me an invitation to do this. I'd probably frighten the horses by turning up in my dirty Wellies and mud splashed trousers and be carted off by Security as a risk to public safety carrying my faithful old gaxrdening fork!
What do you expect from somebody living with a clown
I think I need a golden spade! As I don't dress too dis-similar to Melania when I go to lottie I think it will just add to the ambiance of my gardening experience - might need pink stilettos as well, oh & the pretty skirt with the floral theme (nice touch, must google it to see if they do a vegetable themed one!
In her defence though - note the men are not doing anything - probably taking the tea orders! I don't think she is tree planting, personally I think she was watching the White House gardeners slacking off & like they say want something done do it yourself!
Westi
---
Who is online
Users browsing this forum: No registered users and 3 guests