Moderators: KG Steve, Chantal, Tigger, peter, Chief Spud
KG Regular
Posts: 7245
Joined: Sun Nov 27, 2005 7:00 am
Location: Chwilog Gogledd Orllewin Cymru Northwest Wales
x 662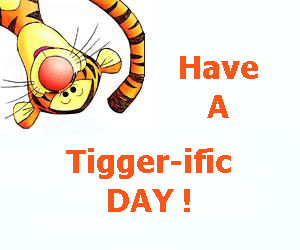 Cred air o bob deg a glywi, a thi a gei rywfaint bach o wir (hen ddihareb Gymraeg)
Believe one tenth of what you hear, and you will get some little truth (old Welsh proverb)
KG Regular
Posts: 12545
Joined: Tue Jan 24, 2006 1:52 pm
Location: Beautiful Bedfordshire
x 997
Dear Tigger, a very Happy Birthday from me as well, hope you get really spoilt.
I suppose you have cleared your mantlepiece ready for James Martin's card.
We do miss your posts on the forum.
Kind Regards, Old Herbaceous.

There's no fool like an old fool.
KG Regular
Posts: 3091
Joined: Sat Dec 06, 2014 8:20 pm
Location: Near the big house on the hill Berkshire
x 795
Best wishes, hope you have a most enjoyable day

The danger when people start to believe their own publicity is that they often fall off their own ego.
At least travelling under the guise of the Pa Snip Enterprise gives me an excuse for appearing to be on another planet
Happy Birthday ...and the sun seems to be shining for you too!
KG Regular
Posts: 5636
Joined: Fri Nov 25, 2005 1:54 pm
Location: Near Stansted airport
x 518
Contact:
Hsppy birthday old gal.
Happy Birthday Tigger! x
Westi
Happy birthday Tigger, hope you have had a lovely day so far.
KG Regular
Posts: 1636
Joined: Wed Feb 22, 2006 3:38 pm
Location: Middlesex
x 257
Happy birthday Tigger
Enjoy your special day
'Preserve wildlife - pickle a rat'
---
Who is online
Users browsing this forum: No registered users and 45 guests